Goldluck Yacht Attended Weihai Boat Show
---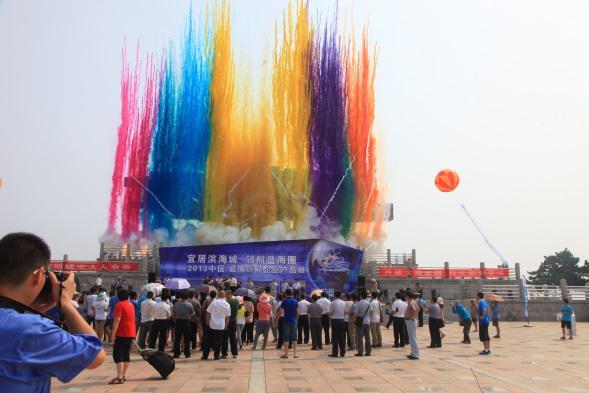 In order to promote the further rapid development of the yacht industry in Weihai, consolidate the leading market position of the city's yacht industry, according to the requirements of the relevant documents of the people's governments of Shandong Province and Weihai City and the demands of enterprises, by the careful preparation of the Weihai Ship Inspection Bureau of Shandong Province and the Weihai Yacht Industry Association, it was decided to hold the 2014 China (Weihai) Yacht Show on October 17-19, 2014, and Weihai Golden Fortune Yachts will carry three different models of boats for the first time in the Weihai Boat Show.
This boat show and yacht development forum will be held for the Weihai yacht enterprises to show the strength of a favorable platform, the Weihai regional yacht industry to the public, improve the visibility and reputation of Weihai yacht, for enterprises to broaden the sales channels, and promote the initial formation of the yacht economy industry chain in Weihai.
Exhibition activities.
(1) In order to expand the influence of the exhibition, the exhibition venue in the yacht show and fishing tackle show rented buses to transport passengers free of charge, at the same time, with the Bureau of Marine Fisheries jointly organized the "first "fisherman fishing" leisure sea fishing tournament in Shandong Province";
(2) Jointly organize a yacht photography contest with Weihai Photographers Association;
(3) New product launch for exhibitors;
(4) Daily distribution of souvenirs to the registered audience at fixed points;
(5) Hundreds of yachts for the public promotion activities;
(6) To carry out yacht experience activities, 2 yachts docked at the West Coast wall, four shifts per day, registered visitors can experience for free;
(7) held a yacht development forum, invited experts from the Development and Reform Commission of Shandong Province to explain the development plan of Shandong Sheng yacht industry.
Exhibition time and location.
October 17-19, 2014 at Weihai Old Port Marina
Exhibition organizer.
Weihai City Yachting Association