The 2nd China Shenzhen Bay International Boat Show
---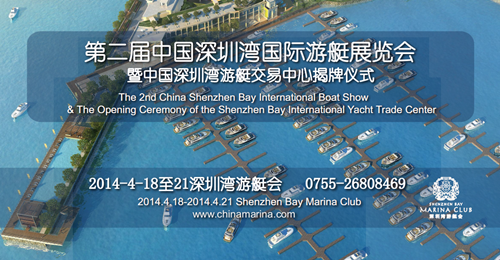 The 2nd China Shenzhen Bay International Boat Show
and the inauguration ceremony of China Shenzhen Bay Yacht Trade Center
I. Project background
Vigorously building and promoting marine culture and comprehensively constructing the development strategy of Chinese culture in the era of marine strategy is not only a matter of China building a strong marine power and a modern civilization, but also an important indicator of the comprehensive strength and civilization of the country. Shenzhen Special Economic Zone, as a coastal city, the marine economy is destined to become an important part of Shenzhen's economic structure, in the "Shenzhen Marine Economy Development" Twelfth Five-Year Plan, outlining the city's marine economy in the next few years, to the "Twelfth Five-Year Plan By the end of the "12th Five-Year Plan" (2011-2015), the city's marine GDP will reach 150 billion yuan. According to the forecast data of Shenzhen Yacht and Sailboat Industry Association: By 2020, the potential demand for yachts in the country will reach more than 7 million, which will create a GDP output of about 100 billion yuan, while the Shenzhen yacht market will exceed 20 billion yuan, with a very broad prospect.
For this reason, we are going to expand the scale of the exhibition on the basis of the first "China (Shenzhen) International Boat Expo" successfully held on December 5-7, 2008, and will be held in Shenzhen Bay Yacht Club from April 18-21, 2014: the second China Shenzhen Bay International Boat Show. This exhibition will adopt the water and land exhibition mode which is in line with the international standard, the scale of water exhibition is about 10000 square meters, and the scale of land exhibition is about 6000 square meters. Exhibits include all kinds of domestic and foreign boats, related equipment, accessories and waterfront high-end property and luxury goods. At the same time, we will vigorously promote marine culture, hold several summit forums on marine economy and yacht industry, and hold a series of marine life experience and communication activities during the exhibition.
II. Theme of the event
Blue Dream, Chinese Dream
3、Different advantages of the exhibition
(A) unique - geographical location
Shenzhen Bay Yacht Club is located in the southern end of the affluent Pearl River Delta, adjacent to Hong Kong, and Macao across the sea, sitting on the only open sea area in Shenzhen, east of Shenzhen Bay Port, west of Shekou Port passenger terminal, as well as the international cruise yacht business travel area in Port-au-Prince, is one of the earliest yacht clubs in China. It will be the candidate pilot unit of Guangdong, Hong Kong and Macao yacht free flow policy, as well as the proposed base of Guangdong Province yacht tourism demonstration.
(II) The largest yacht trading market in China
On April 27, 2013, approved by Shenzhen Customs, a 4,000 square meters public yacht bonded warehouse was set up in the harbor pond of Shenzhen Bay Yacht Club, which is the first yacht bonded warehouse in Guangdong Province. In the coming year, this yacht bonded warehouse will be planned to be built into - the largest international yacht trading exhibition center and never-ending international yacht show in China, which is expected to receive yacht buyers from home and abroad, 500-600 times a day. Shenzhen Bay Yacht Club will become the largest yacht club in Guangdong Province and even in China, receiving the most international yacht business-type visitors in a single day and a year.
(C) Unique - the advantages of trading services
1、With a large database of professional buyers and strong buyer organization ability.
2、Providing investment and financing services for yacht transactions: investment and financing, insurance, guarantee, mortgage, loan and other businesses.
3, to provide customs clearance, insurance, taxation, yacht transfer and licensing and other licensing professional services.
4, professional after-sales inspection, repair, maintenance and yacht trusteeship services.
IV. Overview of activities
(A) Exhibition name: the second China Shenzhen Bay Yacht Exhibition
(B) Exhibition time: April 18-21, 2014
(C) the exhibition venue: Shenzhen Bay Yacht Club, Nanshan District, Shenzhen
(D) Organization.
Organizers: Shenzhen Bay Yacht Club Co.
To invite co-organizers.
Guangdong Yacht Tourism Association
Shenzhen Federation of Industry and Commerce (Municipal Chamber of Commerce)
Shenzhen Cruise Yacht Promotion Association
Shenzhen Yacht and Sailing Industry Association
Shenzhen Private Entrepreneurs Association
Shenzhen Jewelry Industry Association
Shenzhen Watch and Clock Industry Association
Shenzhen Seafarers Association
Zhuhai Yacht Tourism Association
Guangdong RV Association
Guangdong Harley Motorcycle Association
Guangzhou Private Car Association
Hong Kong Catamaran Association
Shenzhen Habla RV Camping Association
Shenzhen Oriental 4WD Off-road Vehicle Club
Dongguan Private Entrepreneurs Association
Shenzhen Guanlan Golf Club
Shenzhen Xili Golf Club
Industrial and Commercial Bank of China
Shenzhen Ping An Bank
Shenzhen China Merchants Bank
Bank of East Asia
China Huaxia Bank Shenzhen Branch
Shenzhen Bay Yacht Club International Driving Training Center Reunion
Rolls-Royce
Bentley
Ferrari
Lamborghini
Porsche
Organized by: Shenzhen Bay Yacht Club Co.
Shenzhen Bay International Yacht Trade Center
Cooperation media to be invited.
V. Theme activities.
(1) Yachts and sports boats exhibition area
Exhibit range.
Yachts, sightseeing boats, tourist submarines, leisure boats, fishing boats, luxury cruise ships (boats), etc.
Official boats, lifeboats, hovercraft, electric boats, jet skis, water fitness boats, sailboats, etc.
(2) Marina, clubs and service organizations exhibition area
Yacht club (clubhouse), marina facilities and construction, sports clubs
(3) High-end life exhibition area.
Complete cars: top luxury cars, leisure saloons, commercial vehicles, off-road vehicles, special vehicles, beach vehicles, modified vehicles, etc.
Helicopters: civil helicopters, seaplanes.
Luxury goods: top jewelry, foreign wine, watches, etc.
Luxury real estate: coastal properties, luxury homes.
Financial services: private banks, financial management, financing institutions, etc.
4、Marine culture series activities
(1) China (Shenzhen) Motor Boat Show
(2) China (Shenzhen) Ocean Economy Forum
(3) China's marine economy strategic cooperation project signing ceremony
(4) "Shenzhen Bay Night" celebrity dinner
(5) "Ocean Baby" photography contest
(6) Water sports experience camp - motorboat, small sailboat, kayak test ride experience
VI. Exhibitor Price List
(A) Water berth price
380 RMB/ft/exhibition period
(B) Land booth price
Booth Type
Price
Equipment
Tent Booth
(3M×3M)
Yacht and equipment
RMB 4800/each
Tent marked with company name, two fluorescent lamps, carpet, two folding chairs, one negotiation table, one power outlet, paper basket.
High-end life exhibition area
7800 Yuan/each
Raw space (36 m2 to be rented)
RMB 480/ m2
No configuration
Seven, to invite professional audience organizations
○ Shenzhen Bay Yacht Club International Driving Training Center organization: nearly 1,000 driving training students who are interested in buying yachts.
○ Self-driving tour associations, caravan associations, private car associations, tourism associations, donkey associations, leisure industry investment companies, cultural industry investment, travel and tourism, travel websites, travel supplies online stores and government people from all walks of life and other business groups.
○ Members of the Pearl River Delta, Hong Kong, Macao, Taiwan and Shenzhen chambers of commerce, Shenzhen industry associations, classic car clubs, super car clubs, Harley car clubs, flying clubs, golf clubs, sports clubs, etc.; China Mobile GSM Gold Card users, real estate association members, bank VIP members, VISA users.
o Yacht players, water sports players, high-income groups, members of high-end clubs and clubs.
Website: www.chinamarina.com
Address:No.1199 Wanghai Road, Nanshan District, Shenzhen, China
Tel: 0755-26698333 (to Yacht Division), 26676259, 26808469
Contact:Miss Li18320853622 QQ126568851